Auto Insurance - Cincinnati, Ohio, Kentucky and Indiana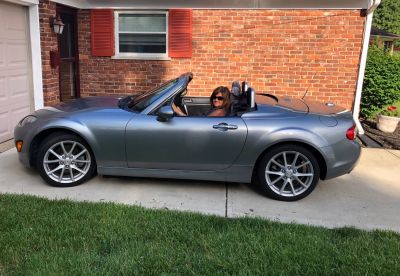 PERSONAL AUTO INSURANCE COVID-19 REFUNDS
It's taken all of us staying at home, keeping our distance, and practicing strong personal hygiene to slow the spread of COVID-19. As a result of reduced driving, many personal auto insurance carriers are offering various credits and refunds. No action is required on your part to receive this discount. Below is a list of all our insurance carriers and how they are handling the credit process. Please click your carrier link for more information.
Auto Owners is offering a 15% Safe at Home Refund with a return of premium on autos (that include bodily injury coverage) for the months of April and May, subject to regulatory approval. Refunds will be applied to any outstanding balance on your billing account. Any remainder will be returned via check or your automatic payment method. You don't need to take any action. The refunds will automatically be sent out in May.
The Donegal Insurance Group recognizes that you are experiencing significant disruption in your daily lives and business activities as a result of the extraordinary circumstances caused by the ongoing COVID-19 pandemic. In keeping with our commitment to be there when it matters most, for sixty (60) days beginning March 22, 2020, we are suspending policy cancellations for non-payment and waiving late fees that would otherwise result from non-payment of premium. Our billing invoices will continue to reflect scheduled payment due dates, but we will not issue notices of cancellation for non-payment or charge a late fee if payment is received within the 60-day suspension period. This suspension does not apply to notices of cancellation that were issued prior to March 22, 2020. Please contact our Resource Center representatives at (800) 877-0600, press 8, with any billing questions or concerns.
Encova Insurance is issuing a 15% policy credit on autos for the months of April and May. No additional action is required to receive credit. Credit will be directly applied to your bill, or if you have already paid in full, a check will be issued. Credits are subject to regulatory approval.
Frankenmuth will be providing a 15% refund for April and May premiums on personal auto policies.
Here are a few things to note:
You do not need to take action to receive the refund.

Upon individual state regulatory approval, the refund will be issued for policies in force as of April 30, 2020.

Vehicles included are automobiles, pickup trucks, and vans.

The refund does not apply to automobiles in storage, antique vehicles, motorcycles, motor homes, trailers, and campers.
For Michigan policyholders, the (MCCA) vehicle assessment fee will not be included in your refund calculation.
Additional details, including how refunds will be calculated and distributed, will be made available soon.
Grange Insurance will return premium to personal auto policyholders in the form of a 25% credit for the months of April and May.
Personal auto customers who have policies in force between April 1, 2020, and May 31, 2020 will receive refunds. The exact method of calculating the 25% refund is being reviewed and will be submitted to each state's DOI (Department of Insurance) for approval.
All Personal Lines preferred auto, nonstandard auto and package policy business will receive the refund, pending DOI approval. Specific products include: PinPoint Auto® 3, PinPoint Auto, Passport Auto, GrangeOne®, Grange Mutual Family Auto and Non-Standard Auto. This does not include Motorcycle or Miscellaneous Auto products.
Hanover is returning 15% of April and May auto premiums through The Hanover CARES Refund.
Here's a summary of how the refunds will be processed:
The Hanover CARES refund will be a credit of 15% of the monthly auto premium for April and May for eligible personal lines customers. To make this as easy as possible, you will automatically receive the credit. No action is required.

If you have paid in full and do not have an account balance on any of your policies with us, then you will receive two refund checks. One in May and another in June. If you have other Hanover policies with a payment due, we will apply the credit to these balances first.

If you pay by electronic funds transfer (EFT) then you will receive a credit to your monthly withdrawal in May and June.

If you have a remaining balance on your auto policy, then you will receive a credit to your balance owed in May and June.
The Hanover CARES Refund will be processed in the next month's billing cycle and will be credited throughout the following month. You will be able to view your refund amount on My Hanover Policy once it has been credited to your policy.
If you have an active personal auto policy at the end of April or May, you will be receiving a 20% premium credit. There is nothing you need to do. Progressive will calculate your credit at the end of that month, and you'll see it in your Progressive account a few weeks after that. It's all automatic—their plan is to provide you a confirmation message when each credit is in your account.
WHEN YOU'LL RECEIVE YOUR CREDIT
Progressive will calculate your credit within a few weeks of the end of April and May. You'll receive your credit shortly after that.

HOW YOUR CREDIT WILL BE APPLIED

Once Progressive has calculated the credit for your policy, they'll automatically apply it to any outstanding balance or your next bill. And if you're already paid in full, they will return the credit amount directly to your payment account or issue you a check.

HOW TO ESTIMATE YOUR CREDIT

Because your premium can change throughout the month due to renewal or policy changes you request, Progressive can't tell you exactly what your credit will be until the end of the month. But you can get a sense of what your credit will be by taking 20% of your normal monthly premium.

For example, if your 6-month policy premium is normally $900, one month of premium would be roughly $150. In that situation, you'd be likely to receive a credit of $30 for April. Then, if your policy stays active, you'd receive an additional $30 for May. Keep in mind that unique policy and billing situations may apply. And if you bought a policy after the first of the month, your credit will be prorated—they'll base it off the amount of time you were insured that month.

WHAT YOU NEED TO QUALIFY
To receive a credit of 20% of your April premium, your personal auto policy must be active at the end of April. Similarly, to receive a credit of 20% of your May premium, your personal auto policy must be active at the end of May.
Safeco is offering a Personal Auto Customer Relief Refund.
Here's how it works:
You will receive a 15% refund on two months of your auto premium, based on your premium amount as of April 7, 2020.

The refund will be returned in the manner you made your most recent payment or by check.

Safeco will begin issuing refunds in the coming weeks, after we have approval from state insurance regulators.

Your refund will happen automatically, and you do not need to call us to get your refund.
State Auto created the In This Together plan. An automatic one-time 5% discount on your entire personal auto premium at your next renewal. Pending regulatory approval, this discount will apply for every State Auto customer with an active personal auto policy as of June 1, 2020.
Travelers has launched the Stay-at-Home Auto Premium Credit Program, which will automatically give you a 15% credit on your April and May auto premiums. These credits will be reflected in future bills. If you are set up on direct bill or a recurring payment plans you will receive the automatic credit on future bills. If you paid in full, then you will receive a direct payment.
Westfield is offering Personal Auto customers a 15% credit of your eligible monthly auto premium for the months of April, May, and June 2020. If you have an active Personal Auto policy as of April 30, 2020, you will receive the full credit to your account in the month of May 2020.
Note: timing will vary depending on your due date; the credit will be applied to your May or June bill.
• An account paid in full and with renewal dates prior to June 30, the credit will be applied to your next renewal.
• A renewal date of July 1 or after and is currently paid in full, you will receive a check.
• A cancelled policy after April 30, will receive a check in the amount of the credit.
______________________________________________________________________________________________________________________
All of the Insurance companies we represent provide a wide range of auto insurance products at a fair price. Your price gets even better if you qualify for any of the available discounts. When applying for auto insurance in Cincinnati, Ohio, Kentucky or Indiana you're usually asked whether you want collision and/or comprehensive coverage, how high you want your deductible to be, what liability limits you want, and whether you want any types of optional coverage. We can help you understand what these terms mean and how much coverage is right for you.
Auto Insurance coverage options in Cincinnati, Ohio, Kentucky and Indiana:
Collision and Comprehensive (other than collision) coverages
Collision and Comprehensive (other than collision) coverages pay for damage to your automobile. You can purchase either or both of these coverages for each vehicle you own. If you have an auto loan you may be required to purchase both.
Collision coverage insures you against damage to your vehicle caused during an accident.
Comprehensive (other than collision) coverage insures you against all other physical damage to your car caused by such events as fire, theft, flood, and vandalism.
Collision and comprehensive (other than collision) coverage usually includes a deductible, which can range from $100 to $1,000. If your car is damaged, the Insurance company pays only for the damage in excess of the deductible you selected. The higher the deductible, the lower the premium.
Liability coverage
Liability coverage pays for injuries you cause to other people and damage you cause to other people's property when you are at fault in an automobile accident.
Medical Payments coverage
Medical Payments coverage pays medical expenses (up to a specified dollar limit) for you and passengers of your car who are injured in an automobile accident, no matter who is at fault.
Personal Injury Protection
Some states require Personal Injury Protection, which is also known as No-Fault coverage. This coverage pays for things like medical and rehabilitative expenses, replacement services, and funeral expenses. It also pays for loss of income if you are injured in an auto accident and are unable to work.
Uninsured/Underinsured Motorist coverage
This coverage pays if you are injured by a person who is completely uninsured or doesn't have enough liability Insurance to cover your injuries. It also covers you if you are in an accident with a hit-and-run driver.
Optional Coverage
Optional or special coverage includes extras such as towing, rental reimbursement, and roadside assistance. None of these coverages are required.
How much do I need?
Choosing the appropriate level of auto insurance coverage depends on a number of factors, including assets you must protect (liability coverage), value of your vehicle (collision and comprehensive), the amount of money you can afford to pay out-of-pocket (deductibles), and your tolerance for risk.
Our professional auto insurance agents can assist you in finding the right car insurance that you need.