Welcome to Huesman Schmid Insurance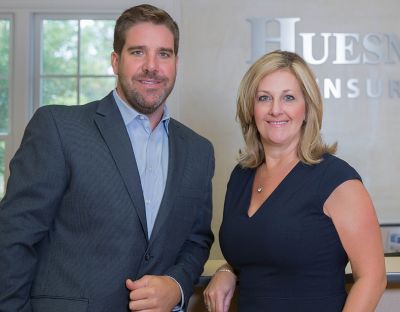 KEYSTONE HONORS HUESMAN SCHMID AS OHIO AGENCY OF THE YEAR!
The award recognizes the agency within each of its states that best exemplifies Keystone's mission: "Independence works better together." Criteria includes demonstrating a commitment to growth through leadership mentoring, engaging in technology advancements, employing best practices to improve operations, and developing new income streams to strengthen their business diversity.
Principals Amy Roberts and A.J. Schmid explained the changes the agency has made in the last year to continue thriving.
"Our favorite improvement we made to thrive was the development of a multi-phase plan to restructure our Commercial Lines Department. This new structure aligns our staff with a client base that matches their skill set and expertise, provides the staff a path for advancement, and lends internal support for training and development."
"We promise to do our best to provide our clients with peace of mind and give them the assurance that the things they care about most are well protected. Our priority is YOU! We don't just sell insurance; we work closely with our clients to help them make important and informed decisions every day when it comes to protection and their future. Our promise is to go above and beyond to protect what matters most to companies, families, and individuals."
About Keystone Insurers Group: Keystone started in 1983 when four independent insurance agencies teamed up to pool their experience and expertise. This small group believed that agencies could be stronger and more successful if they linked arms -- a passion and spirit that continues. Growing to almost 300 independent agency partners in 17 states, Keystone provides its agents with a community of like-minded agencies, industry expertise and access to specialized products for their clients. Keystone is ranked number four on Insurance Journal's 2021 list of Top 20 Property/Casualty Agency Partnerships. For more information, go to www.keystoneinsgrp.com.
About Huesman Schmid Insurance Agency: Our Agency Family hopes that you experience the great pride we take in our agency, community and YOU. We strive to build relationships so you feel confident that your needs are being protected for every stage of your life. An insurance policy is a promise to provide protection, security and peace of mind. Your satisfaction is the key to our success, and that satisfaction goes far beyond just selling insurance policies. Here is how we do that:
Choice: As an independent agent, we have the freedom and benefit of providing a wide variety of choices when it comes to insurance companies and coverages. We realize that you have an abundance of choices in the insurance market, and we appreciate that you have entrusted us with protecting your most valuable assets. We want to continue earning your trust through our frequent communication, personal relationships, and community involvement. We encourage you be a part of our Agency Family and join us in having some fun!
Service: To us, service means not only providing you with excellent insurance choices, but also experienced staff who are here to help you navigate your account as well as to help you the minute a loss occurs and beyond. We want you to know us and feel comfortable with us! You will know who our staff members are as people and members of the community, and we want to know the same about you.
Local: When most people say they are local, they mean they have an office in your community. While that is true of us, when we say we are local we mean we are a part of your community, your city, your state and even surrounding states. We are involved with numerous local, state and national charities and organizations which we hope will only serve to improve the area that we have been part of for so long.
We offer all types of Personal Insurance coverages to our clients in Ohio, Indiana and Kentucky including Auto Insurance, Homeowners Insurance, Renters Insurance, Personal Umbrella, and Condo Insurance.
Give one of our advisors a call to discuss your Business Insurance. Some of our Commercial insurance coverages include General Liability, Commercial Auto, Commercial Property, Condo Association, and Bonds.
Give one of our advisors a call at 513-521-8590 or submit one of our quick online quote forms - with the help of our dedicated business partners; we conveniently offer an entire solution for all your insurance needs.